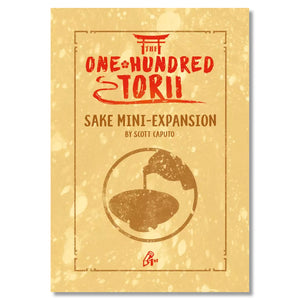 This is an expansion for The One Hundred Torii.
Different types of sake have full and empty sides. A sake card provides an immediate benefit, such as gaining an extra token or additional tiles. However, a special effect creates a challenge on the following turn.
Cards begin play with their full side face up. A player may drink (or claim) a sake card once per turn, which grants the benefit of the full side. However, the negative effect of the empty side must be taken on their nex turn.
Benefits include gaining tokens, hiring a character for fewer tokens, and having more tiles in hand. Negative effects include losing token, paying more to hire characters, and playing with a single tile in hand.
Contains 9 cards.