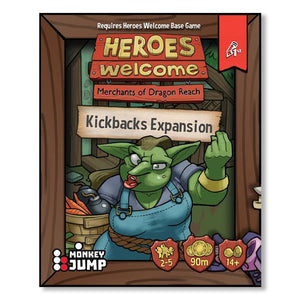 This is an expansion for Heroes Welcome. 
It adds three new mini-expansions to the game.
Kickbacks are a new type of card that grants a special reward when you craft for a Customer. Some of the Customers in the Workshop will have face-up Kickback Cards next to them. When you craft for that customer, you take all of their Kickback Cards. Each Kickback is a unique reward.


Variant monster cards add a little variety to the monsters that appear at the workshop.


Starting shop tiles which let you randomize the initial board layout.